But he warned that Tashkent must in return give "swift and clear" assurances that it will improve its human rights record.
Germany's dpa news agency said Steinmeier made those remarks in the Uzbek city of Bukhara after meeting earlier today in Tashkent with President Islam Karimov and Foreign Minister Vladimir Norov.
Steinmeier said Uzbek envoys were expected to make concrete proposals in terms of rights improvement at a meeting with EU officials in Brussels on November 8.
Civic campaigners say the human rights situation has deteriorated in Uzbekistan since the May 2005 Andijon events that saw government troops brutally quell a popular uprising.
The EU is to decide on November 13 whether to maintain the sanctions it imposed after Uzbekistan rejected international calls for an independent inquiry into the Andijon unrest.
Those sanctions include an arms embargo and a visa ban on 12 Uzbek officials the EU holds responsible for the killing of Andijon protesters.
The EU parliament voted on October 26 in favor of maintaining the weapons embargo but against extending the travel sanctions and expanding them to other officials.
Germany is due to take over the EU rotating presidency on January 1.
(dpa)
Andijon Anniversary Conference
Andijon Anniversary Conference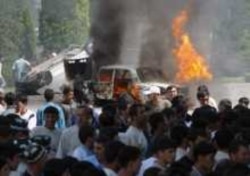 Violence in Andijon, Uzbekistan, on May 14, 2005 (epa)


TALKING ABOUT ANDIJON:
On May 9, 2006, RFE/RL, the National Endowment for Democracy, and U.S.-based human rights organizations cohosted a conference on the May 2005 events in Andijon and their aftermath in Uzbekistan and throughout the region. The first panel featured Andijon eyewitness
GALIMA BUKHARBAEVA
, National Endowment for Democracy Fellow
NOZIMA KAMALOVA
, RFE/RL Central Asia analyst
DANIEL KIMMAGE
, and others. The second panel featured presentations by U.S. Senator
JOHN MCCAIN
and U.S. Congressman
CHRISTOPHER SMITH
, who used the forum to announce they had introduced legislation calling for sanctions and other measures against the government of President Islam Karimov.
LISTEN
Listen to the Andijon conference. Part One (70 minutes):
Real Audio
Windows Media
Part Two (60 minutes):
Real Audio
Windows Media
The Uzbek government's response:
Real Audio
Windows Media


THE COMPLETE STORY: A dedicated webpage bringing together all of RFE/RL's coverage of the events in Andijon, Uzbekistan, in May 2005 and their continuing repercussions.
CHRONOLOGY
For an annotated timeline of the Andijon events and their repercussions, click here.