Visiting German FM Assails Turkmen Rights Record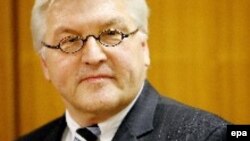 German Foreign Minister Steinmeier (file photo) (epa) November 2, 2006 -- Visiting German Foreign Minister Frank-Walter Steinmeier has criticized Turkmen President Saparmurat Niyazov's government over its poor human rights record.
Germany's dpa news agency quoted Steinmeier as saying that Turkmen authorities are "too hesitant" in implementing political reforms.

The ZDF state television channel says the German visitor referred to Turkmenistan's "deficit in democracy."

Steinmeier made the comments in Ashgabat, where he arrived today as part of a weeklong tour of Central Asian capitals.

Steinmeier, who met with Niyazov for three hours, said both sides could not overcome their differences.
Turkmenistan's official TDH news agency reported on the meeting between Niyazov and Steinmeier but made no mention of the German foreign minister's criticism.

In a letter sent to Steinmeier on October 26, the New York-based nongovernmental group Human Rights Watch (HRW) said it hoped he would use his visit to "reinforce the message about the urgent need for concrete reform steps as a pre-condition for any deepening of EU engagement with the Turkmen government."

Germany is due to take over the EU's rotating presidency on January 1.

(dpa, heute.de, HRW letter)