EU Report Likely To Say Reforms Slowing In Turkey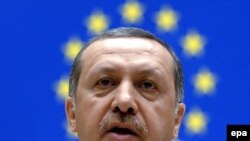 Turkish Prime Minister Recep Tayyip Erdogan (file photo) (epa) November 7, 2006 -- The European Commission is expected to say it will step up scrutiny of economic and political reforms by candidates for membership, especially Turkey, when it releases its annual state-of-enlargement report on November 8.
A draft of the report released last week said reforms in Turkey are slowing.
The meeting was also discussed by German Vice Chancellor Franz Muentefering and Italian Prime Minister Romano Prodi at a meeting of European Social Democrats in Berlin.
Muentefering emerged to say that Turkey it would "not always be easy" for Turkey to meet the EU's requirements but added that he expects "all involved ... to enter on this course [to enlargement] constructively."
The report is also to discuss other candidates: Croatia, Macedonia, Albania, Montenegro, Serbia, and the disputed Serbian province of Kosovo.
(AP, Reuters)