The meeting took place in Astana on the sidelines of Egyptian President Hosni Mubarak's visit to Kazakhstan, which ended today.
A statement posted on the KNB's website says the two security chiefs agreed to boost cooperation "against international terrorism, religious extremism, and other threats and challenges."
Shabdarbaev and Suleiman al-Rifai also discussed exchanging information between their respective services.
Kazakhstan on October 12 released a list of 12 organizations it says are banned on suspicion of advocating terrorism.
Among them is the Egyptian-headquartered Muslim Brotherhood.
Hizb Ut-Tahrir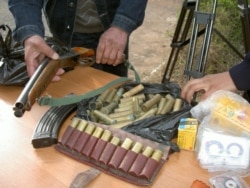 Arms and leaflets allegedly confiscated from Hizb ut-Tahrir members in Kyrgyzstan in May (RFE/RL)

ATTRACTIVE TO THE YOUNG: It is virtually impossible to estimate the size or composition of Hizb ut-Tahrir's membership in Central Asia, because the controversial movement is banned in most places. But some observers say anecdotal evidence suggests the group's core of younger members is growing....(more)
RELATED ARTICLES
Russia Approves List Of 17 'Terrorist' Groups
Extremist Threats, And Doubts, In Kyrgyzstan, Tajikistan
Hizb Ut-Tahrir's Calls For Islamic State Find Support
Hizb Ut-Tahrir Challenges Britian's Proposed Ban
Lone Islamic Party Pursues Dual Path In Tajikistan

A thematic webpage devoted to issues of religious tolerance in RFE/RL's broadcast region and around the globe.