Georgia: South Ossetia's Ethnic Georgians Launch Counter-Vote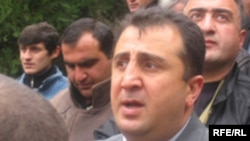 Dmitry Sanakoyev is likely to win the alternative presidential vote (RFE/RL) GORI, GEORGIA; November 9, 2006 (RFE/RL) -- As Georgia's breakaway region of South Ossetia votes on November 12 in both a referendum on the province's status and to elect a new president, Georgian-controlled areas in the region will also vote for a president.
The main, separatist-supported poll is both a referendum on the region's status and a presidential vote. The incumbent president, Eduard Kokoity, is likely to win a landslide victory.
Georgian-Controlled Areas
But that will be of little interest or consequence to the inhabitants of the Georgian-controlled parts of South Ossetia, who account for between 30 and 40 percent of the population.
The Georgian-controlled villages are mostly dotted around the so-called "conflict zone," north of the capital Tskhinvali. The conflict zone, where most of the fighting in the 1991-92 war between Ossetian and Georgian forces took place, is patrolled by Russian, Ossetian, and Georgian peacekeepers.
For a start, actually going to vote in the main poll will be tricky.
Bela Pliyeva, the head of South Ossetia's Central Election Commission, has said that the commission had asked that seven polling stations be set up in the Georgian-controlled areas, but the Georgian authorities denied the request.
And only holders of South Ossetian passports, which the vast majority of people in Georgian areas do not hold, are allowed to vote.
Opportunity To Vote
Regardless, most ethnic Georgians would probably not vote anyway in an election they see the main poll as illegitimate.
Instead, many ethnic Georgians are opting for the alternative presidential vote -- which has an entirely different list of candidates.
Speaking to RFE/RL in Gori, one woman said she welcomed the alternative elections. She is refugee from near Tskhinvali and plans to return to her electoral district to vote.
"It's true, the [Georgian] Constitution does not allow this, and, partially, we do disagree with it -- only because it is not in accordance with our constitution. However, considering the fact that many other options have failed, I think this is the only way out, the only right choice.... This way we will restore the unity and independence of our country," she said.
Frontrunner
The "acceptable" candidate for the Georgian population is likely to be Dmitry Sanakoyev, the front-runner in the alternative presidential election.
Sanakoyev, a former prime minister in the separatist government, says he differs from Kokoity in that he doesn't believe the international community -- in particular Russia, the United States, and Europe -- will ever violate the principle of territorial integrity.
That will mean a good deal to the ethnic Georgians in Ossetia who don't want to break away from Georgia -- but it's unclear what exactly Sanakoyev's election would mean in practice.
Georgian-controlled areas already vote for their own leaders and receive institutional and financial support from Georgia proper.
For many just the prospect of voting, regardless of the outcome, is attractive for many.
Dueling Polls
South Ossetian leader Kokoity has ridiculed the alternative election, saying it is illegitimate.
"It's a farce. It's an elementary question -- on what constitution, which laws, and which documents is the Georgian government basing this alternative election? It's just Georgia's attempt to show the West that there's a schism in Ossetian society," Kokoity said. "We can hold presidential elections for any government you want -- let's say in Africa or somewhere else. Having Georgia conduct elections here is basically the same thing as holding elections for the president of Honduras."
Georgia has denied any involvement with the alternative election.
It has to tread a careful line. Recognizing the election would compromise its position that any polls -- or indeed anything connected with the separatist government -- are illegitimate.
The South Ossetian authorities have also accused Georgia of funding the alternative vote.
The South Ossetia Press and Information Committee reported on November 7 that Georgian police were handing out election leaflets at checkpoints.
There are plans to create an alternative presidential administration, including a presidential office and perhaps even a parliament.
Analysts say a rival administration with a president and the support of around one-third of the region's people could be Georgia's way of bringing those Ossetians who are disgruntled with the separatist leader Kokoity back into the fold.
(RFE/RL Gori correspondent Goga Aptsiauri, the North Caucasus Service, and Luke Allnutt contributed to this report)

SUBSCRIBE For weekly news and in-depth analysis on Armenia, Azerbaijan, Georgia, and Russia's North Caucasus by e-mail,
subscribe to "RFE/RL Caucasus Report."