Putin, opening the talks in the Kremlin, said ties were successfully developing, but also said there were problems that needed to be addressed at the highest level.
Russia recently threatened to raise gas prices for Belarus to up to $200 per 1,000 cubic meters from about $47 currently, unless Belarus agreed to give Russia some control over its pipelines.
Russian officials have also said Russia could significantly cut oil supplies if Belarus did not agree to share export duties from oil products refined from Russian crude.
Belarus and Russia are close political allies, and the two nations have agreed to set form a loose union. Belarus is heavily dependent on Russian energy supplies.
(Belapan, newsru.com, ITAR-TASS)
Russia And Belarus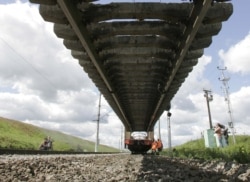 The main Moscow-Minsk railway line(Tass)

TO MERGE OR NOT TO MERGE: For over a decade, Moscow and Minsk have been working on a project to form a single state, the Russia-Belarus Union. However, every time the two countries seem on the verge of making progress, one or the other steps back, leaving the entire effort in doubt.
RELATED ARTICLES
Putin, Lukashenka Press Ahead With Unification
Has Putin Promised Lukashenka Fair Weather?
Tensions Remain In Putin-Lukashenka Talks
ARCHIVE
RFE/RL's
coverage of Belarus
. RFE/RL's
coverage of Russia
.