Ba'athist officials were purged from their positions soon after the toppling of Hussein's regime by the U.S.-led invasion in March 2003, even though many of those that joined the party under Hussein did so out of necessity and not ideological fervor.
The de-Ba'athification campaign has been widely blamed by many for creating a vast pool of unemployed and disenfranchised Sunni Arabs, many of whom found no option but to join insurgent groups.
Major Concession
The government's decision to allow former members of Saddam Hussein's Ba'ath Party to return to their government jobs is considered a major concession to the Sunni Arab community.
The director-general of the Iraqi De-Ba'athification Commission, Ali Faysal al-Lami, said on November 7 that plans have been drawn up to allow many former Ba'athists to return to their jobs. Al-Lami said the draft law would be presented to parliament and would allow for all but the top 1,500 former Ba'ath Party officials to return to work and obtain their pensions.
"The law will allow Ba'athists to return to their offices, but not allow them the ideology of the banned Ba'ath Party. We consider those who insist on remaining in the Ba'ath Party to be terrorist elements," al-Lami was quoted by AFP as saying.
Reforming the De-Ba'athification Commission to transform it into an "accountability and reconciliation program" is one of the "benchmarks" for progress in Iraq that U.S. Ambassador Zalmay Khalilzad outlined on October 24. The hope is that allowing the bulk of the former Ba'athists to return to their jobs will help quell sectarian tensions and help to foster national reconciliation.

Hussein's Death Sentence
The fate of former President Saddam Hussein is inextricably intertwined with the Ba'athists' future and whether or not the Sunni insurgency can be persuaded to lay down its weapons. While he lacks the authority he once possessed, Hussein still has symbolic significance to those associated with his Ba'ath Party.
After Hussein was found guilty of crimes against humanity in the Al-Dujayl trial and sentenced to death, there were widespread reports of Sunnis rejecting the sentence and holding pro-Hussein demonstrations. Moreover, the party has called for Hussein not to be harmed and for the immediate release of their comrades. They have also threatened retaliation against the heavily fortified Green Zone in Baghdad if he is executed.
"If President Saddam Hussein is executed...the party will reinforce its siege against the Green Zone," the party announced on its official website on November 7. The Ba'athists vowed to "use all possible means to destroy embassies, as well as the headquarters of intelligence and treacherous organizations."
Although, the threat was issued before the Iraqi government's plan to reinstate many of the Ba'athists was announced, the anger at Hussein's verdict was evident. His downfall parallels that of many of the Ba'athists who were dismissed in 2003. The party that once filled the highest echelons of power in Iraq and granted the greatest privileges has essentially been dissolved.
Indeed, Hussein's execution would perhaps serve as a rallying point for not only the Ba'athists, but for other Sunni Arab groups. Putting Hussein to death could make him a martyr, which would inject new life into the insurgency, particularly since there is a widely held perception that the trial was illegitimate and held under the auspices of the U.S. occupation.
Therefore, Hussein's symbolic stature could grow if he is executed, making him appear a victim, like the disenfranchised Sunni Arabs themselves, of a vindictive Shi'ite-led government and its perceived U.S. benefactors.
Conversely, the offer to reinstate many Ba'ath Party members could be a means to entice those who are willing to forgo Ba'athist ideology, embodied by Hussein, and embrace the current Iraqi government.
Hussein's execution may have less symbolic power for Ba'athists if there are opportunities for them in the new Iraq. The reinstatement plan could drive a wedge between former Ba'athist leaders, who are believed to be driving the Sunni-led insurgency, and those low-level Ba'athists who feel so disenfranchised that they have no choice but to fight.
Can Plan Work?
It's difficult to ascertain whether the plan to reinstate Ba'athists will have any concrete effects leading to reconciliation. But the plan is seen as a major policy shift by the Iraqi government, and that alone is noteworthy. The Shi'ite-led government apparently realizes that it needs to take steps to be more inclusive in order to persuade those willing to lay down their weapons to do so.
The reinstatement plan, coupled with the talks Iraqi officials held with former Ba'ath Party leaders in Amman, Jordan, last week, demonstrates the Iraqi government's efforts to assuage the Ba'athists' feelings of marginalization. Allowing them to return to their positions and perhaps including them in the political process would offer them hope and reason to abandon the insurgency.
On the other hand, there is the possibility that the plan will get bogged down in the Iraqi parliament. There is still considerable opposition to the Ba'ath Party and many lawmakers fear reinstating its former members because of the party's notorious past.
Furthermore, many Iraqis have scores to settle with former Ba'athists and there have been reports of revenge attacks against former party members. "Al-Zaman" reported on November 8 that attacks against former Ba'ath Party members continue unabated, particularly in the south. According to the Freedom Monitoring Commission, an independent Iraqi human rights group, 1,556 former Ba'athists have been killed and none their cases have been investigated.
If the government does not do more to protect the former Ba'athists, then the reinstatement plan will be useless, since threats of retribution against the Ba'athists would force them to take up arms in self-defense, thus continuing the cycle of violence and dashing any hopes of national reconciliation.
Saddam Hussein Biography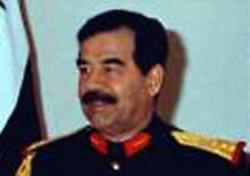 For a timeline of former Iraqi President Saddam Hussein's life from his rise within the ranks of the Ba'ath Party and the Revolution Command Council to his regime's ruthless persecution of perceived enemies at home and abroad, click here.