Russian agencies are reporting that Ali Larijani met today with President Vladimir Putin at Putin's country residence outside of Moscow. There were no details.
Larijani also met for six hours on November 10 with Igor Ivanov, the head of Russia's Security Council.
Afterward, he told reporters at the Kremlin that Iran is ready to engage in dialogue to solve any disputes over its nuclear program.
"We accept inspections by the agency [IAEA], we adhere to the Nuclear Nonproliferation Treaty. If there are any disagreements, we are ready to solve them through talks," Larijani said.
However, the Iranian diplomat also warned that a draft Untied Nations sanctions resolution by European negotiators could make Tehran reconsider cooperation with IAEA inspectors.
UN Resolution
Major European powers have presented a draft UN resolution mandating tough sanctions on Iran's nuclear and missile programs, including travel bans and financial restrictions on Iranian researchers working on the programs.
But Larijani said Iran "will review our relations with the IAEA if the UN adopts the European resolution without the amendments proposed by Russia."
"Those insisting on adopting the resolution, deliberately seek to make the situation worse, in the (Middle East) region. Nuclear weapons have no role in Iran's security doctrine," Larijani said.
Russia, one of the permanent UN Security Council members, has said the draft sanctions are too tough and has proposed amendments to soften them. One proposal would reportedly delete a demand that Iran allow even more intrusive international inspections of its nuclear program.
Some media reports said Larijani was scheduled to discuss the matter later today in talks at the Kremlin with Russian President Vladimir Putin.
Bushehr Plans
Larijani's Moscow talks are also expected to touch on the civilian nuclear power plant Russia is building for Iran at Bushehr. The United States fears that facility could be used as a cover for weapons-related enrichment of nuclear fuel.
Iran has expressed frustration over frequent Russian delays in opening the plant, currently scheduled for fall 2007.
The United States and the European Union suspect Iran of using its nuclear energy program to mask atomic weapons work.
Iran denies that charge, insisting its nuclear activities are legal and strictly for energy purposes. The country says its nuclear program -- for now -- remains under the supervision of UN inspectors.
IAEA Final Resolution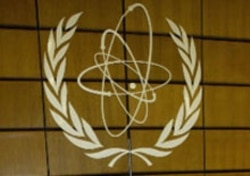 READ
On 4 February, the Board of Governors of the International Atomic Energy Agency approved in a 27-3 vote a resolution to report the matter of Iran's nuclear program to the United Nations Security Council. The key section of the resolution is Section 1, which states that the Board of Governors:
Underlines that outstanding questions can best be resolved and confidence built in the exclusively peaceful nature of Iran's program by Iran responding positively to the calls for confidence-building measures which the Board has made on Iran, and in this context deems it necessary for Iran to:
reestablish full and sustained suspension of all enrichment-related and processing activities, including research and development, to be verified by the Agency;
reconsider the construction of a research reactor moderated by heavy water;
ratify promptly and implement in full Additional Protocol;
pending ratification, continue to act in accordance with the provisions of the Additional Protocol with Iran signed on 18 December 2003;
implement the transparency measures, as requested by the Director General, which extend beyond the former requirements of the Safeguards Agreement and Additional Protocol, and include such access to individuals, documentation relating to procurement, dual use equipment, certain military-owned workshops and research and development as the Agency may request in support of its ongoing investigations.
COMPLETE TEXT: To read the final resolution, with late-hour changes highlighted, click here.

THE COMPLETE PICTURE: RFE/RL's complete coverage of controversy surrounding Iran's nuclear program.