A statement from the Shi'ite prime minister's office says al-Maliki made the call during a closed session of parliament, where he outlined plans to bring stability to the country.
Al-Maliki took office six months ago. He said previously he wanted to change several ministers in his national unity coalition.
Shi'ite legislator Bassam al-Sharif quoted al-Maliki as urging lawmakers to stop criticizing his government and instead declare their loyalty to a unified Iraq.
The prime minister was responding in part to public charges by lawmakers that the government was complicit in the killing of members of the Sunni minority.
(Reuters, AFP, AP)
Sectarian Iraq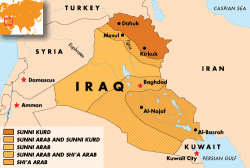 Click to enlarge the image.
SUNNI, SHI'A: Iraq is riven along sectarian lines, faults that frequently produce violent clashes and are a constant source of tension. Sectarian concerns drive much of Iraqi politics and are the main threat to the country's fragile security environment.


THE COMPLETE PICTURE: Click on the image to view RFE/RL's complete coverage of events in Iraq and that country's ongoing transition.