Yushchenko said on November 13 that there has been no formal decision to abandon "any part" of the integration policy.
Yushchenko said there might have been statements softening positions as some voters cannot immediately accept the idea of integration with NATO. But he said voters can accept the idea of cooperation with NATO.
Speaking about elections in Ukraine, Yushchenko blamed the loss of the so-called Orange team in legislative elections in March on their own mistakes.
"Political change occurred and if it occurred within the framework of democratic rules and procedures, we have to respect it. Period," Yushchenko said. "And if anyone wants an honest answer as to why a new force came to power, it was not because of a new team of opponents but because of errors by the Orange team. There were individual errors and collective errors. You have to draw your own conclusions from this. And you know, we mustn't sit here and knock our heads against the wall, saying that this is some kind of fatal error that society will be unable to overcome. It will, of course, overcome it."
Yushchenko also said Ukraine has to work out a mechanism of state authority which will make clear how the president, the government, and the parliament can work together.
(Reuters)

Viktor Yanukovych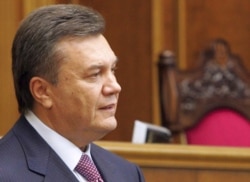 Prime Minister Viktor Yanukovych addresses Ukraine's Verkhovna Rada on August 6, 2006 (TASS)


UP FROM THE ASHES. On August 4, 2006, the Ukrainian legislature ended four months of political standoff by confirming Viktor Yanukovych as prime minister. Yanukovych's pro-Russian Party of Regions won the largest block of seats in the country's inconclusive March legislative elections. His confirmation capped a remarkable political comeback for Yanukovych after his defeat by Viktor Yushchenko in Ukraine's Orange Revolution....(more)
RELATED ARTICLES
Former President Comments On Yushchenko's Compromise
President Compromises For National Unity
Kremlin Insider Hails Developments
Former U.S. Envoy Says West Can Work With Yanukovych
ARCHIVE
RFE/RL's
coverage of Ukraine
. The website of
RFE/RL's Ukrainian Service
.


A photo gallery of political developments in Ukraine since the March 26 elections (Flash required)