Terrorism Tops Agenda At India-Pakistan Talks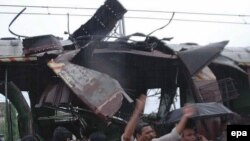 Police and onlookers at the site of one of the bombs detonated this July on Mumbail's railway system (epa) November 14, 2006 -- India and Pakistan resumed peace talks today in the Indian capital, New Delhi.
Indian officials say they will press for a Pakistani commitment not to allow acts of terrorism from its soil against targets in India, during the two days of talks.
The peace process has been on hold since the Mumbai train bombings that killed 207 people in July.
India suspended the talks, claiming Pakistani intelligence played a role in the bombings. Islamabad denies the charge.
The two countries, both of which are armed with nuclear weapons, have fought three wars since their independence from Britain in 1947.
(AP, AFP, Reuters, dpa)