Addressing a gathering of his Unified Russia party, Gryzlov said the current arrangement under which Russia manufactures and provides nearly all the components of the planes that Uzbekistan assembles and sells abroad is "unacceptable."
Gryzlov, a staunch Kremlin ally, said transferring the production of Il-76 to Russia would cost 2.6 billion roubles ($97.5 million). He said his party will lobby the Russian government so that these sums appear in next year's state budget.
The Il-76 and other Ilyushin planes are currently assembled at the Tashkent-based Chkalov aviation plant. The plant was evacuated to Uzbekistan from western Russia during World War II.
(ITAR-TASS, Interfax)
Russian Arms Exports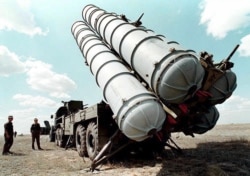 Russia's advanced S-300 air-defense system (epa file photo)

BOOM TIMES: In 2005, Russia sold more than $6 billion in weapons to more than 60 countries around the world. The state arms exporter says it has $17 billion in orders in hand....(more)
RELATED ARTICLES
Putin Pushes Greater Arms Exports
Energy, Weapons Bring Moscow Closer To Algiers
Will Russia's Oil Windfall Go To Military?
Putin Stresses Need For Strong Military
ARCHIVE
RFE/RL
coverage of Russia
. RFE/RL web special on
U.S.-Russian relations
.
SUBSCRIBE
For news and analysis on Russia by e-mail,
subscribe to "RFE/RL Russia Report."