North Korea Talks Likely To Resume Next Month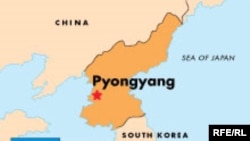 (RFE/RL) November 15, 2006 -- A U.S. diplomat says the next round of six-country talks aimed at resolving the standoff over North Korea's nuclear-weapons program will probably be held in early December.
U.S. Assistant Secretary of State Christopher Hill made the announcement today in Vietnam's capital, Hanoi.
"We all feel that the process really needs to show progress, and that's why we need to plan this next round very carefully," he said.
North Korea agreed to return to the six-party talks after carrying out its first nuclear-weapons test October 9. The talks have been stalled for more than a year.
(AP, dpa, Reuters)