Solzhenitsyn's Complete Works To Be Published In Russia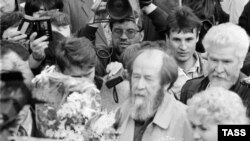 Aleksandr Solzhenitsyn pictured in 1994 on his return to Russia after 20 years in exile (ITAR-TASS) November 16, 2006 -- The Russian publishers of Aleksandr Solzhenitsyn have announced that the complete works of the Soviet-era dissident writer and Nobel Literature Prize laureate will be published for the first time in his native Russia.
Solzhenitsyn's wife, Natalia, presented the first of 30 volumes to reporters today. The full works are due to be published by 2010.
Solzhenitsyn's first complete works, in 20 volumes, was published in the West in the 1980s and early 1990s.
(compiled from agency reports)



UPDATED CONSTANTLY: Visit RFE/RL's Russian-language website, featuring news, analysis, features, streaming audio, and more, in Russian, from RFE/RL's Russian Service.
ARCHIVE
RFE/RL's English-language
coverage of Russia
.