Bosnian Croat Politician Jailed For 5 Years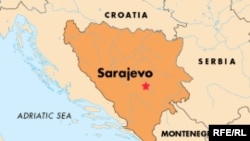 (RFE/RL) November 17, 2006 -- A Bosnian court today sentenced a Bosnian Croat political leader to five years in jail for abuses committed while he was finance minister.
The court said Dragan Covic bent rules to steal millions of dollars in evaded taxes. He was acquitted of bribery charges.
After being indicted last year, Covic was sacked as the Bosnian Croat member of Bosnia's tripartite presidency.
(AP, dpa)