State television on November 16 quoted the interior minister as saying al-Dhari was wanted for inciting sectarian violence, but the government spokesman, Ali al-Dabbagh, today said the report had been taken "out of context."
He did, however, confirm that "investigations" are under way into the activities of al-Dhari, who is believed to be in Jordan.
(compiled from agency reports)
Sectarian Iraq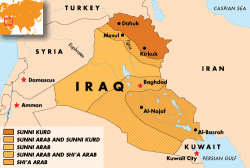 Click to enlarge the image.
SUNNI, SHI'A: Iraq is riven along sectarian lines, faults that frequently produce violent clashes and are a constant source of tension. Sectarian concerns drive much of Iraqi politics and are the main threat to the country's fragile security environment.


THE COMPLETE PICTURE: Click on the image to view RFE/RL's complete coverage of events in Iraq and that country's ongoing transition.