Owner Of Russian Bank Shot Dead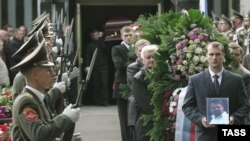 The burial of Andrei Kozlov, deputy head of the central bank, murdered in September (ITAR-TASS) November 21, 2006 - The owner of a small Russian bank was shot dead in Moscow, becoming the third banker to be murdered in the Russian capital in three months.
Reuters reports that Konstantin Meshcheryakov, co-owner of Spetsetstroibank, was shot outside an apartment building in northern Moscow.
(Reuters)



UPDATED CONSTANTLY: Visit RFE/RL's Russian-language website, featuring news, analysis, features, streaming audio, and more, in Russian, from RFE/RL's Russian Service.
ARCHIVE
RFE/RL's English-language
coverage of Russia
.