Iran Bans Ceremony For Slain Opposition Leader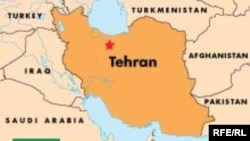 (RFE/RL) PRAGUE, November 22, 2006 (RFE/RL) -- Iran has banned a ceremony that was due to be held today in Tehran to mark the eighth anniversary of the death of Dariush Foruhar, an opposition leader.
Foruhar and his wife, Parvaneh, were assassinated in 1998 in their house in Tehran.
Their daughter, Parastu, told RFE/RL's Radio Farda that the reason given by the authorities was that "in ceremonies held in previous years, there was talk that put Iran's national security in question and issues were mentioned that were against Iran's national interests."
The commemorative event was to have been held in the Foruhar family home.
Parastou Foruhar said the police have blocked the street that leads.
Earlier this week, some 300 political and cultural activists called on Iranians to attend the ceremony.

SUBSCRIBE For regular news and analysis on Iran by e-mail,
subscribe to "RFE/RL Iran Report."