His trip to meet Iranian President Mahmud Ahmadinejad is one of many back-and-forth trips by top officials of the two neighboring countries.
"There is a whole range of issues which the president and his delegation will discuss in Tehran: political, security, trade, economy, oil, and this is all reflected in the structure of the Iraqi delegation," Iraqi presidential spokesman Kamran al-Karadaghi told RFE/RL's Radio Free Iraq. "And, of course, Iraq always appreciates the support of Iran for the political process in Iraq since the toppling of the former regime in Iraq, and Iraq would like more support from Iran -- particularly to help Iraq confront terrorism and to consolidate security in this country."
The Syrian president's presence in Tehran would turn the event into a summit meeting with Iraq conducted by two countries with which the United States has extremely uneasy relations.
Two Players Or Three?
But this otherwise routine state visit could become something extraordinary if media reports that Syrian President Bashar al-Assad has also been invited prove true.
Al-Assad's presence would turn the event into a summit meeting with Iraq conducted by two countries with which the United States has extremely uneasy relations.
Iran and Syria are both members of the U.S. administration's expanded "axis of evil." Washington regularly accuses then of fanning regional instability – not only in Iraq, but in Lebanon as well.
Moreover, any such joint Iranian-Syrian meeting with Iraq would come as tensions with Washington run particularly high following the November 21 assassination of anti-Syrian Lebanese politician Pierre Gemayel in Beirut.
U.S. President George W. Bush criticized both Damascus and Tehran on November 21 over the assassination, just hours after it occurred.
"We support the [Lebanese Prime Minister Fuad] Siniora government and its democracy, and we support the Lebanese people's desire to live in peace," Bush said. "And we support their efforts to defend their democracy against attempts by Syria, Iran, and allies to foment instability and violence in that important country. I call for a full investigation of the murder to identify those people and those forces behind the killing."
The events in Beirut further complicate the question of how -- and at what price -- the United States, Iran, and Syria could cooperate to stabilize Iraq.
Is Compromise Possible?
Bush is under increasing domestic pressure to open a dialogue with Tehran and Damascus over Iraq following defeats for his Republican Party in U.S. legislative elections on November 7.
A congressionally established bipartisan committee is expected to recommend such dialogue as part of its review of Bush's Iraq strategy.
But all the players in any regional settlement for Iraq want different things -- even if they were to be able to agree that worsening instability in Iraq is a danger for all.
Iran and the United States are at odds not only over Iraq -- where Washington accuses Tehran of directly helping fund and arm militant Shi'ite groups -- but also over Iran's nuclear program.
Both countries have signaled they would want to link any talks about Iraq to concessions from the other on the nuclear issue.
"If the Iranians want to have a dialogue with us, we have shown them a way forward and that is to verifiably suspend their [uranium] enrichment activities," Bush said on November 13.
The Matter Of Lebanon
The United States and Syria-- which Washington accuses of doing too little to stop insurgent recruits from entering Iraq -- can also be expected to demand concessions from each other.
Washington wants Syria to stop what it charges is continued interference in Lebanon 18 months after Damascus withdrew its troops. That withdrawal followed widespread Lebanese protests against Damascus over the February 2005 assassination of another anti-Syrian leader, former Prime Minister Rafiq Hariri.
Damascus is considered just as eager to see Washington ease pressure to isolate it over UN charges that Damascus is stonewalling investigations into Syrian officials' possible roles in Hariri's killing. And Damascus wants U.S. ally Israel to give back the occupied Golan Heights.
Amid so many competing interests, can Washington, Tehran, and Damascus find common ground?
Or, would any joint Iranian-Syrian meeting be merely an effort to demonstrate a common front for making higher demands regarding any cooperation with Washington over Iraq?
The answer will only start to become clearer in the days ahead as observers watch closely for signs of whether the Syrian president will be in Tehran.
Iraq And Iran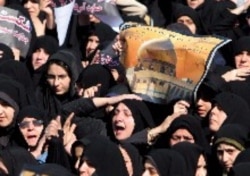 Iranian Shi'a protesting the Golden Mosque Bombing in Iraq on February 24


WHAT IS GOING ON? On March 8, RFE/RL's Washington office hosted a roundtable discussion on relations between Iraq and Iran. Although most analysts agree that Iran has been actively involved in Iraq since the U.S.-led military operation to oust former Iraqi President Saddam Hussein, they continue to debate the nature, extent, and intent of that involvement.
The RFE/RL briefing featured WAYNE WHITE, former deputy director of the U.S. State Department Bureau of Intelligence and Research's Office of Analysis for the Near East and South Asia, and A. WILLIAM SAMII, RFE/RL's regional analyst for Iran and editor of the "RFE/RL Iran Report."
LISTEN
Listen to the complete RFE/RL briefing (about 75 minutes):

Real Audio
Windows Media
RELATED ARTICLES
Iran/Iraq: Bilateral Ties Improving Despite U.S. Worries
Renewed Speculation About Tehran And Instability In Iraq
Iran/Iraq: Neighbors Mending Ties, But Outstanding Issues Remain
ARCHIVE
RFE/RL's
coverage of Iran
. RFE/RL's
coverage of Iraq
.