The death toll is still being calculated in Baghdad today from the November 23 violence. But at least 200 people have been counted dead, and about twice that number injured, in the attacks.
The mayhem began with a wave of car bombings in the tightly populated Shi'ite district of Al-Sadr City. The targets included a crowded square, a food market, and a main avenue where there is heavy bus traffic.
As scores of injured people were brought to Al-Sadr City's hospitals, angry residents and armed Shi'ite militiamen poured into the streets.
Shortly afterward, mortar rounds began landing in adjacent majority Sunni areas, killing at least 10 people according to news agency reports.
Frequent Calls For Calm
Radio Free Iraq's Baghdad bureau chief Nabil al-Haidari says the danger now is that revenge attacks will increase. He says government and some religious leaders are repeatedly appearing on the airwaves to urge calm.
Al- Haidari notes that "when such operations happen, usually the [targeted] group tries to exact revenge, and revenge means more blood and more numbers [of dead]. So this is the reaction of the government, and the main leaders of the political Shi'ite parties and even Islamic leaders are trying to show themselves on TV with President [Jalal] Talabani, just to send a message to the Iraqi people that we must try and control the situation now."
The car bombs in Al-Sadr City detonated just hours after dozens of gunmen attacked the Health Ministry in the capital. Health Minister Ali al-Shammari accused Sunni extremists and Ba'ath Party loyalists of conducting the assault on the ministry, which was repelled by Iraqi Army soldiers.
Revenge In Numbers
Our correspondent says ordinary Iraqis are watching the surge of violence with great unease. That is because major bombing operations aimed at one of Iraq's communities invariable spark revenge attacks, and civilians are the primary targets.
"It is sad to say, but every civilian is afraid of being caught or arrested at a checkpoint by a group from a different militia, because these militias are trying to add quantity to their list [of people they kill in revenge], not quality," al-Haidari adds.
Al-Haidari says checkpoints have become one of the most feared features of life in the capital, because civilians are forced to present their identity documents at them.
Those documents, which show an individual's name and address, can be interpreted for signs of his or her community affiliation.
Many of the checkpoints are false, with no connection to the police. But even policemen manning official checkpoints can be affiliated with one of the many rival militia groups, causing civilians to fear them as well.
Involving Iran
The latest violence comes as Iraqi President Talabani is due to fly to Tehran on November 25 for talks with Iranian President Mahmud Ahmadinejad.
The previously scheduled talks are to focus on both security and economic questions. But Talabani can now be expected to ask Tehran to use its influence with Iraqi Shi'ite militias to help reduce the spiraling level of tension inside Iraq.
The United States charges Iran with helping fund and arm several militias connected with the Shi'ite religious parties that dominate the Iraqi government.
U.S. officials implicate some of those militias -- as well as Sunni extremist groups, Ba'ath Party loyalists, and Al-Qaeda members -- in the waves of kidnappings and killings plaguing Iraq.
Iranian Foreign Minister Manuchehr Mottaki signaled on November 23 that Syrian President Bashar al-Assad would not take part in the Tehran summit, despite press reports that he had been invited. Mottaki said a three-way meeting was "not on the agenda."
Talking With The Enemy
Any joint Iran-Syria meeting with Iraq's president would have been noteworthy for bringing two of Washington's sworn enemies together with Baghdad to discuss regional security issues.
There is growing debate in Washington over whether the U.S. administration should hold dialogue with Tehran and Damascus over ways to stabilize Iraq.
A congressionally established bipartisan U.S. committee is expected to recommend before the end of this year that President George W. Bush consider this option amid growing domestic criticism of his Iraq strategy.
Sectarian Iraq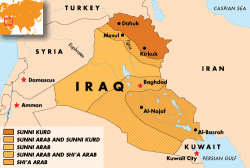 Click to enlarge the image.
SUNNI, SHI'A: Iraq is riven along sectarian lines, faults that frequently produce violent clashes and are a constant source of tension. Sectarian concerns drive much of Iraqi politics and are the main threat to the country's fragile security environment.


THE COMPLETE PICTURE: Click on the image to view RFE/RL's complete coverage of events in Iraq and that country's ongoing transition.