Turkish Premier Plans Iran, Syria Visits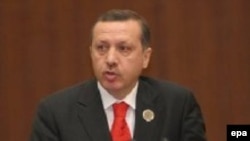 Prime Minister Tayyip Erdogan (file photo) (epa) November 27, 2006 -- Turkish Prime Minister Recep Tayyip Erdogan has said he will visit Iran and Syria to discuss Iraq, Lebanon, and the Israeli-Palestinian conflict.
The Anatolia news agency quoted Erdogan on November 26 as saying he will go to Tehran on December 3 and to Damascus "speedily."
Erdogan's move appears part of a growing diplomatic impulse to involve Iran and Syria in a Mideast peace process.
(AFP)