Talabani was forced to delay the trip for two days as Baghdad, under curfew, mourned attacks that killed more than 200 people.
But the Iraqi president arrived on November 27 and has since met with Iranian President Mahmud Ahmadinejad and Supreme Leader Ayatollah Ali Khamenei.
After his meeting with Ahmadinejad, Iranian state television quoted Talabani as saying his country is in dire need of Tehran's help to establish security and stability in Iraq.
Ahmadinejad said Iran will stand beside Iraq and provide any help it can to end the escalating viol
ence in Iraq.
"We believe a secure, advanced, and powerful Iraq will be in line with the interests of the Iraqi nation -- and also in the interests of the Iranian nation and the whole region," Ahmadinejad said.
Senior Contact
Talabani's visit is just the latest high-level contact between the Iranian and Iraqi governments, whose countries fought a bloody war in 1980-88.
Iraqi Prime Minister Nuri al-Maliki visited Tehran in September, highlighting the mending and expansion of mutual ties.
RFE/RL regional analyst Bill Samii says that expanding cooperation and healthy relations necessitate high-level official visits.
"Iran has shown a great interest in the reconstruction of Iraq and pilgrimage trade to Shi'a shrines in Iraq, and for Iraqi Shi'ites to come to Iran," Samii says. "Then they're [also] connecting the Iraqi electricity grid with the Iranian [power grid]. There is talk of the provisionof natural gas and oil to Iraq. I think it's significant that the Iraqi president is visiting Iran. But this is not the first time he's done so, and I suspect it will not be the last time."
Washington Watches
Talabani's visit comes as some are calling on the United States to engage Iran and Syria to try and stop the bloodshed in Iraq.
U.S. national security adviser Stephen Hadley is being quoted today as saying that Iraqi Prime Minister al-Maliki is likely to bring up the Iran-Syria issue during his meeting with President Bush in Jordan on November 29.
Beyond the high-profile nuclear standoff over Iran's nuclear activities, Washington has accused Iran of influencing Shi'ite groups in Iraq and encouraging the insurgency.
But Iranian officials have repeatedly denied meddling in Iraq's internal affairs.
Analysts quoted in today's "The New York Times" suggested that Talabani is in Iran to urge officials there to speak directly with the United States about Iraqi security.
On November 26, President Ahmadinejad said Iran was ready to help the United States in Iraq -- but only if Washington pledged to change its attitude and withdraw its troops.
President Bush reiterated today that Washington's conditions for talks with Tehran remain unchanged -- Iran must first suspend its nuclear-fuel enrichment activities. Bush also said it is up to Iraq to decide whether neighbors Iran and Syria should be more involved in helping to reestablish security there.
Regional Influence
There are suggestions among observers that Iran might try to use talks with Talabani to assert its regional role and influence. Iranian officials were said to have invited Syrian President Bashar al-Assad to join this visit with the Iraqi president, but al-Assad does not appear to have responded.
Some Iraqi officials claim that Tehran's latest initiative signals increasing concern over escalating violence across Iran's 1,500-kilometer border with Iraq.
Alex Vatanka, an analyst and editor of "Jane's Sentinal Security Assessment," tells Radio Farda that Iran's ability to stem violence in Iraq could be limited.
"The American side, mainly for PR purposes, has exaggerated Iran's influence over some of the more extreme Shi'a elements in Iraq," Vatanka says. "I just don't think the Iranians and the Syrians have that much control over the destiny of Iraq, and I don't think these two countries are feeding the sectarianism that you see to that extent. I think both Iran and Syria like to be seen as players that can turn things this way or that way in Iraq, but they exaggerate for their own purposes. Because clearly they see themselves as negotiating with the U.S. on a grand bargain that everybody's looking for."
Talks with Tehran and Damascus are reportedly among the recommendations that might emerge from the Iraq Study Group, which was established to assess the situation in Iraq and advise U.S. policymakers.
On November 27, UN Secretary-General Kofi Annan warned that Iraq has nearly descended into civil war -- or soon could, unless urgent steps are taken. The White House acknowledged afterward that sectarian violence in Iraq has entered what it called "a new phase." But a State Department spokesman, Sean McCormack, rejected the label "civil war" for the situation.
Today in Tehran, Supreme Leader Khamenei told Talabani that the first step toward restoring security in Iraq is the departure of U.S. forces.
(Radio Farda broadcaster Niusha Boghrati contributed to this report.)
Iraq And Iran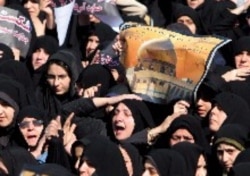 Iranian Shi'a protesting the Golden Mosque Bombing in Iraq on February 24


WHAT IS GOING ON? On March 8, RFE/RL's Washington office hosted a roundtable discussion on relations between Iraq and Iran. Although most analysts agree that Iran has been actively involved in Iraq since the U.S.-led military operation to oust former Iraqi President Saddam Hussein, they continue to debate the nature, extent, and intent of that involvement.
The RFE/RL briefing featured WAYNE WHITE, former deputy director of the U.S. State Department Bureau of Intelligence and Research's Office of Analysis for the Near East and South Asia, and A. WILLIAM SAMII, RFE/RL's regional analyst for Iran and editor of the "RFE/RL Iran Report."
LISTEN
Listen to the complete RFE/RL briefing (about 75 minutes):

Real Audio
Windows Media
RELATED ARTICLES
Iran/Iraq: Bilateral Ties Improving Despite U.S. Worries
Renewed Speculation About Tehran And Instability In Iraq
Iran/Iraq: Neighbors Mending Ties, But Outstanding Issues Remain
ARCHIVE
RFE/RL's
coverage of Iran
. RFE/RL's
coverage of Iraq
.