The Amman talks come as Washington awaits the recommendations of the Iraq Study Group -- a bipartisan U.S. commission that will offer Bush suggestions on how to stabilize Iraq.
A Wider Approach
The U.S. daily "The New York Times" says the congressionally established commission -- which is due to make its report in December -- will urge the administration to mount a broad diplomatic initiative throughout the Middle East, including direct consultations with Iran and Syria.
"Out of chaos and destruction there are always opportunities for peacemaking and reconciliation and dialogue," analyst Judith Kipper says. "And [the U.S.] administration makes rhetoric and it makes war. I haven't seen it make serious diplomacy.
So far, the Bush administration has refused talks with Iran on any issue, including its suspected nuclear-weapons program. And Washington is reported to have had only limited contact with Syria's government, though it has an embassy in Damascus.
Nathan Brown, a Middle East specialist at the Washington-based Carnegie Endowment for International Peace, says that Bush may have elected to meet al-Maliki in U.S. ally Jordan because security is far easier to assure there than in violence-wracked Baghdad.
But he says Bush may also be trying to signal to congressional critics that his administration already is looking to at least some of Iraq's neighbors for help in finding solutions.
A Regional Initiative?
Brown notes that the Amman meeting follows closely on a recent trip by Vice President Dick Cheney to Saudi Arabia, another U.S. ally.
But Brown says that as Washington reaches out to its Middle East allies, it remains far from clear whether the administration is prepared to undertake any broader diplomatic initiative that includes Tehran and Damascus.
"What we have, I think, is a Bush administration recognition of the importance of regional diplomacy," Brown says. "What is absolutely striking, however, is that we're reaching out to our friends -- Saudi Arabia and Jordan -- and trying to coordinate with them. This could be the springboard to a broader regional initiative, but it certainly isn't that. So even if the Iraq Study Group is going to recommend reaching out to some adversaries, that's not what we're doing here."
Brown also says inertia -- that is the tendency to follow a course one is already taking -- also may play a role in any reluctance in the Bush administration to speak with Iran and Syria. Any talks would represent a major reversal of existing policy.
"It sounds very, very strange to describe this administration -- which launched a major war -- as indecisive," Brown says. "But I think one of the hallmarks of our Iraq policy, basically since the minute the fighting ended, has been -- the president can call it 'staying the course' -- but it's just a really slow and reactive policy."
Judith Kipper, the director of the Middle East Forum at the Council on Foreign Relations, agrees that Bush faces an important opportunity at the Amman meeting.
Some Unexpected Guests?
Kipper says the meetings in Amman may include some unexpected guests.
"I wouldn't be at all surprised if, in fact, other leaders may join in," Kipper says. [Bush] doesn't need two days to meet with [al-Maliki]. So I think that with the vice president's trip to Saudi Arabia and other things that seem to be bubbling in the region that there is some kind of initiative that may include others. Somebody from Saudi Arabia might come; [Jordan's] King Abdullah is there; there might be Egyptians to show that the U.S. is going regional, asking for help and so on."
Unlike Brown, Kipper says she believes direct talks with Iran and Syria are "inevitable." And she says there's every reason to expect that the talks with both of these countries would go beyond securing and rebuilding Iraq.
In fact, Kipper says, it wouldn't be overly optimistic to expect talks with Iran to yield tangible progress on the nuclear issue. Likewise, she says, talks with Syria could lead to some resolution of tensions over U.S. concern that Damascus supports militant groups in Lebanon and the Palestinian territories.
"Out of chaos and destruction there are always opportunities for peacemaking and reconciliation and dialogue," she says. "And this administration makes rhetoric and it makes war. I haven't seen it make serious diplomacy. Hopefully they will be able to do that. It's long overdue, the potential is there and the administration -- up to now known for a failed misadventure in Iraq -- could change its legacy."
But Kipper says it is still far too early to predict what might actually come out of any regional diplomacy that starts over Iraq.
The International Coalition In Iraq
The International Coalition In Iraq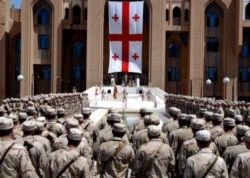 Georgian soldiers marking Georgian Independence Day in Baghdad on June 6 (epa)
COALITION MEMBERS: In addition to the United States, 28 countries are Multi-National Force-Iraq (MNF-I) contributors as of May 31, 2006: Albania, Armenia, Australia, Azerbaijan, Bosnia-Herzegovina, Bulgaria, the Czech Republic, Denmark, El Salvador, Estonia, Georgia, Italy, Japan, Kazakhstan, Latvia, Lithuania, Macedonia, Moldova, Mongolia, the Netherlands, Poland, Portugal, Romania, Singapore, Slovakia, South Korea, Ukraine, and the United Kingdom. Fiji is participating as part of the UN mission in Iraq. Hungary, Iceland, Slovenia, and Turkey are NATO countries supporting Iraqi stability operations but are not part of MNF-I.
NON-U.S. MILITARY PERSONNEL IN IRAQ: United Kingdom, 8,000 as of May 26, 2006; South Korea, 3,237 as of May 9, 2006; Italy, 2,900 as of April 27, 2006; Poland, 900 as of May 30, 2006; Australia, 900 as of March 28, 2006; Georgia, 900 as of March 24, 2006; Romania, 860 as of April 27, 2006; Japan, 600 as of May 30, 2006; Denmark, 530 as of May 23, 2006; All others, 1,140.
(Source: The Washington-based Brooking Institution's Iraq Index of June 15, 2006)


THE COMPLETE STORY: RFE/RL's complete coverage of events in Iraq and that country's ongoing transition.
RADIO FREE IRAQ: To visit the Arab-language website of RFE/RL's Radio Free Iraq, click here.