Khamenei, who is the highest religious or political authority under the Iranian Constitution, claimed that U.S. policies that are being carried out by "intermediaries" are the main reason for the current situation in Iraq.
Talabani was quoted by Iranian state television as saying that security is not in the hands of the Iraqi government and adding that, if such control were returned, the government could establish full security.
Talabani arrived in Tehran on November 27 for talks on security and other issues.
He met on the first day of his visit with Iranian President Mahmud Ahmadinejad, who said his country will provide any help it can to end the escalating violence in Iraq.
(AFP, dpa)
Sectarian Iraq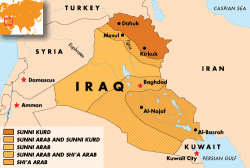 Click to enlarge the image.
SUNNI, SHI'A: Iraq is riven along sectarian lines, faults that frequently produce violent clashes and are a constant source of tension. Sectarian concerns drive much of Iraqi politics and are the main threat to the country's fragile security environment.


THE COMPLETE PICTURE: Click on the image to view RFE/RL's complete coverage of events in Iraq and that country's ongoing transition.