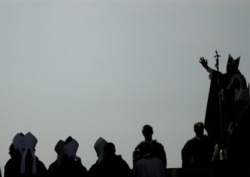 Pope Benedict conducts a Mass in Bavaria in September 2006 (AFP)

FIGHTING SECULARISM, EXTREMISM: On April 19, 2005, German-born Cardinal Joseph Ratzinger was elected pontiff of the Roman Catholic Church. Since becoming Pope Benedict XIV, the pope has labored to combat growing secularism in Europe and growing fundamentalist extremism in the Islamic world. His efforts have sometimes provoked controversy.
RELATED ARTICLES
Pope Expresses 'Deep Respect' For Muslims
Pope's Comments Bring Threats, Condemnation
Pope's Remarks Bring Interfaith Dialogue To Crisis Point
Pope Sparks Controversy With Jihad Remarks
Catholic, Orthodox Churches Unite Against European Secularism
Orthodox And Catholics -- Heading Toward Reconciliation?