In a letter addressed to "Noble Americans," Ahmadinejad urged the United States to pull out of Iraq and suggested it spend its Iraq military budget at home instead.
He also accused the administration of U.S. President George W. Bush of governing by what he called "coercion, force, and injustice."
Tom Casey, a spokesman for the U.S. State Department later, dismissed the letter as mere public relations.
"My initial reaction to you is that there's really not a lot new here and certainly it is something of a public-affairs or public-relations effort on the part of the Iranian government," Casey said.
In May, Ahmadinejad sent a surprise 18-page letter to Bush. Like the latest letter, that one also did not directly address Iran's disputed nuclear program.
(AFP, Reuters, AP)
What The Street Thinks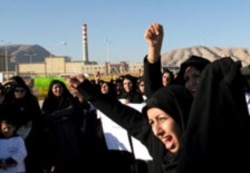 A demonstration in support of Iran's nuclear program outside the Isfahan uranium-conversion facility in Isfahan in January (epa)

IRANIANS SPEAK OUT ON THE DISPUTE: To find out more about what Iranians think about the international controversy over their country's nuclear program, RADIO FARDA asked listeners to express their views....(more)
See also:
Iran: Public Has Mixed Feelings On Nuclear Issue

THE COMPLETE PICTURE: RFE/RL's complete coverage of controversy surrounding Iran's nuclear program.
CHRONOLOGY
An annotated timeline of Iran's nuclear program.