Two decades later, still suffering the long-term effects of chemical agents, many of the 100,000 Iranian survivors of Iraqi gas attacks continue to seek justice as they follow the trial of former Iraqi leader Saddam Hussein.
They are described by many as forgotten victims of Saddam Hussein. In many cases, they are soldiers who fought in the bloody Iran-Iraq war in 1980-88. But many others were noncombatants.

Iranian authorities have registered more than 50,000 victims of chemical weapons requiring special medical care. But it is thought that about 1 million Iranians were exposed to mustard or nerve gas during the war.

Hossein Mohammadian, a resident of Sardasht in Iran's Kurdistan, is among those victims.

'A Special Smell'

Sardasht came under chemical attack months before the March 1988 attack on the Iraqi Kurdish town of Halabja, which became a symbol of Saddam Hussein's brutality. But Sardasht received scant media coverage, and was soon forgotten by many.

But Mohammadian has vivid memories of that hot afternoon in late-June 1987.
"Even 20 years later, those who at the time of the attack were not seriously injured are slowly developing health problems."
"It was not the first time Sardasht was being attacked, but the difference was -- and it became clear later -- that it was a chemical attack," he says. "Some of the bombs fell only a few meters from me. I thought our house was destroyed and my parents were under the rubble. I started running toward the house, when I realized there was thick smoke in the air and a special smell."

Several mustard bombs were dropped on the city, contaminating some 4,500 people. More than 100 people died in the first month after exposure.

Mohammadian says neighbors began coughing and suffering from blisters. Some vomited, while others could barely open their burning eyes.

Eleven members of his family were seriously contaminated. Mohammadian was in such a critical state that he was transferred to a hospital in Tehran, and then Madrid, for treatment. He learned of his father's death only two months after the attack.

Lifetime Of Pain

Mohammadian, now 46, is a senior member of a nongovernmental group that tries to help Sardasht's victims of chemical weapons. He tells RFE/RL that the city still bears the scars of that attack nearly 20 years ago.

"Many people have problems, including respiratory difficulties and weak nerves -- their immune systems have become weak," Mohammadian says. "The reality is that [scientists] have not yet found a guaranteed cure for these victims."


Many have died of collapsed lungs over the years, and others remain disabled.
Shahryar Khateri is a physician who has spent time researching the effects of chemical agents on Iranians. He says many survivors suffer from psychological symptoms, including depression and anxiety.
Khateri was 14 years old when he joined the war to repel the Iraqi invasion, and spent three years on the front lines. There, he witnessed several chemical attacks.
"In one of them, nerve gas was used -- but we had atropine cyanide injections and, fortunately, because of that our contamination was not very serious," Khateri says. "In another mustard-gas attack, we were some distance from where the bombs fell and we used masks."
No Forgetting
After the war, Khateri finished his medical studies and got involved in drawing attention to the plight of victims of chemical warfare.
He says many survivors have developed chronic lung, eye, or skin diseases.
"This is one reason why we believe [chemical weapons] are much more destructive than conventional weapons -- because even 20 years later, those who at the time of the attack were not seriously injured are slowly developing health problems," Khateri says.
Khateri is now the director of international relations at Iran's Society for Chemical Weapons Victims Support (SCWVS). His nonprofit group helps victims and is also active in peace exchanges and efforts to eliminate unconventional weapons.
Khateri tells RFE/RL that Iran's victims of chemical weapons feel the world has forgotten about them.
"There is talk of [Saddam Hussein's] crimes everywhere, but there is not a word about the crimes he committed against Iranians," Khateri says. "Sardasht is the first city in the world to have been attacked with chemical weapons. When it comes to Iran, this issue has been affected -- maybe because [Tehran] does not have good political relations with some countries."
Khateri says many victims are glad to see Iraq's former leader finally facing justice, but there is also disappointment.
"I -- and also many other survivors of the war whom I've talked to -- are happy that [Saddam Hussein] is facing trial," he says. "But we are disappointed that the attack against Iran and the use of chemical weapons [against Iranians] have been ignored. I feel this trial is not fair."
Unanswered Question
In Sardasht, Hossein Mohammadian holds out hope that Saddam Hussein -- who has already been sentenced to death for the mass killing of Iraqi civilians -- will also face prosecution for the use of chemical weapons against Iranians:
Khateri wants to know as well: "Before his [death] sentence is carried out, I would like him to answer a question: Why did he order the use of chemical weapons, especially against the defenseless people of Sardasht?"
In the minds of the tens or hundreds of thousands of Iranians whose lives have been wracked by pain and suffering since those chemical attacks, that question deserves an answer.
Iraq And Iran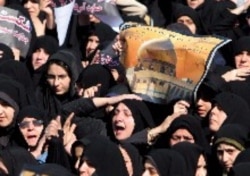 Iranian Shi'a protesting the Golden Mosque Bombing in Iraq on February 24


WHAT IS GOING ON? On March 8, RFE/RL's Washington office hosted a roundtable discussion on relations between Iraq and Iran. Although most analysts agree that Iran has been actively involved in Iraq since the U.S.-led military operation to oust former Iraqi President Saddam Hussein, they continue to debate the nature, extent, and intent of that involvement.
The RFE/RL briefing featured WAYNE WHITE, former deputy director of the U.S. State Department Bureau of Intelligence and Research's Office of Analysis for the Near East and South Asia, and A. WILLIAM SAMII, RFE/RL's regional analyst for Iran and editor of the "RFE/RL Iran Report."
LISTEN
Listen to the complete RFE/RL briefing (about 75 minutes):

Real Audio
Windows Media
RELATED ARTICLES
Iran/Iraq: Bilateral Ties Improving Despite U.S. Worries
Renewed Speculation About Tehran And Instability In Iraq
Iran/Iraq: Neighbors Mending Ties, But Outstanding Issues Remain
ARCHIVE
RFE/RL's
coverage of Iran
. RFE/RL's
coverage of Iraq
.