New U.S. Defense Secretary Confirmed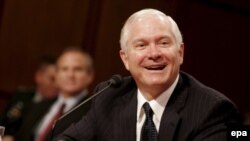 (epa) December 7, 2006 -- The U.S. Senate has confirmed Robert Gates as the next defense secretary.
Gates replaces Donald Rumsfeld, who stepped down last month following legislative elections that were widely seen as a referendum on the war in Iraq.
The Senate voted 95-2 to approve President George W. Bush's nominee only 24 hours after Gates won the unanimous endorsement of the Senate Armed Services Committee -- and just as a long-awaited bipartisan report arrived, urging more diplomacy and fewer U.S. troops in Iraq.
(Reuters, AP, AFP)