First U.S. Troops To Arrive In Romania In April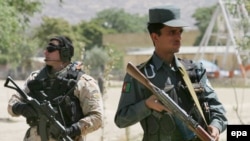 Romanian soldiers are present in both Afghanistan and Iraq (epa) December 8, 2006 -- The first contingent of U.S. troops to be stationed in Romania under a bilateral agreement agreed in December 2005 will arrive at a Black Sea air base in April.
The Romanian media report Colonel John Ingham, the chief of the office for U.S.-Romanian military cooperation, as also saying that the U.S. military will renovate barracks and station 14 to 18 fighter jets in Kogalniceanu, near the Black Sea port of Constanta.
The agreement allows the United States to station 1,500 troops in Romania.
(Mediafax, dpa)