U.S., Germany Criticize Planned Iranian Holocaust Conference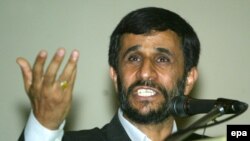 Ahmadinejad has questioned the extent of the Holocaust (epa) December 9, 2006 -- The German government has summoned an Iranian diplomat in Berlin to express opposition to a planned conference on the Holocaust in Tehran next week.
A Foreign Ministry spokesman said Germany found any statement questioning the Holocaust or Israel's right to exist to be shocking.
Iranian President Mahmud Ahmadinejad in the past has questioned the extent of the Nazi Holocaust and said Israel should be wiped off the map.
In Washington, the U.S. State Department denounced as "disgraceful" the plans to hold the conference, which is expected to question whether the Nazis used gas chambers to kill Jews.
State Department spokesman Sean McCormack said it was "just flabbergasted" that Iranian leaders continued to deny that 6 million plus people were killed in the Holocaust.
(compiled from agency reports)

SUBSCRIBE For regular news and analysis on Iran by e-mail,
subscribe to "RFE/RL Iran Report."