EU Offers 1,300 Overseas Scholarships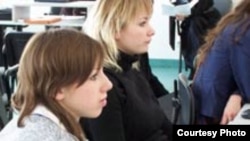 Lithuania is one of a number of countries that already offers scholarships to Belarusian students (Valery Ruselik) BRUSSELS, December 11, 2006 (RFE/RL) -- The European Commission said today it will make available a total of 1,300 scholarships for students from Russia, Ukraine, Moldova, Kazakhstan, Kyrgyzstan, Iran, and Iraq -- among other countries -- to study at EU universities.
The EU's external relations commissioner, Benita Ferrero-Waldner, spoke about the importance of academic exchanges but added that the EU would choose students "very carefully," noting --n an allusion to international concern over Iran's nuclear ambitions -- that "I don't think there will be immediately applications for nuclear technology."
The scholarships will be available for courses of study ranging from three months to three years, starting from the academic year 2007-2008.