PRAGUE, December 15, 2006 (RFE/RL) -- The two-days of talks in Beijing were seen by both sides as being key to a long-term bilateral economic relationship.
Treasury Secretary Henry Paulson, who led the U.S. side at the meetings, said he wanted the talks to lay the basis for relations which will have consequences for generations of Americans. Deputy Premier Wu Yi -- who led China's delegation -- called the meetings critically important.
"Rather than the Central Asian economies basing themselves on a dollar economy, they may be looking far more at [yuan-based] or pegged economies, particularly in view of China's massive drive for business across the world."
Lots Of Pledges
And though at the conclusion of the talks the two sides pledged better cooperation in promoting trade, opening markets, and Beijing liberalizing its currency -- the yuan, which is also known as the renminbi or RMB -- there were few concrete results from the meeting.
Wu, apparently prepared to fend off stiff demands from Washington, lost no time in telling the visitors as the talks got under way on December 14 that many Americans have a lot of misconceptions about China. She reiterated that idea after the talks today.
Misunderstandings?
"For the last few years, whether it has been through communication with the governmental or private sectors in the United States or with different walks of life in U.S. society, we have felt strongly that Americans don't really understand the real situation in China, and there are some misunderstandings," she said.
Paulson -- mentioning Washington's number one concern -- said before the meeting that Americans hold the "strong view" that the Chinese yuan must be allowed to gain in value to reflect its true worth.
He let the facts speak for themselves: the U.S. trade deficit with China hit a record $202 billion in 2005 -- more than doubling over the previous four years. And it is heading for a new record in 2006.
U.S. Federal Reserve Chairman Ben Bernanke, who accompanied Paulson along with six other top economic officials, said this after the meetings: "Allowing the RMB to strengthen would make imports of consumer goods as well as capital goods into China less expensive. Greater scope for market forces to determine the value of the RMB would also reduce an important distortion in the Chinese economy, namely the incentive for Chinese firms to focus on exporting rather than producing for the domestic market."
RMB Revaluation
Beijing has already said it will let the yuan rise beyond the relatively minor revaluations it has already made, but it says the timing and extent of revaluations are China's own business.
The United States has long been pressing for the yuan to be released from its carefully limited float and allowed to rise according to free-market forces. That's because a yuan artificially held down in value makes Chinese products cheaper and more competitive on export markets.
Paulson was already hammering this line in Washington before the present trip.
"Maintaining and relying on an overly-rigid exchange rate and outdated administrative controls increases the risk of 'boom and bust' cycles," Paulson said. "Also -- [and this is] to be underestimated only at China's own peril -- is the fact that their exchange rate is increasingly being viewed by their critics as a symbol of unfair competition."
Both sides have big stakes in improving their trade relations. China, for its part, wants recognition from the United States that it has arrived as a major economic power.
Recognition As A Power
Senior analyst Alexander Neill, of the London-based Royal United Services Institute, says that China is expressing its desire for a multipolar economic order, just as it has long called for a multipolar political world instead of one where the United States is the lone superpower.
"It's apparent with this summit that [Deputy] Premier Wu Yi is really trying to drive home the fact that China is [already] an economic power, its currency is growing in strength, and it also wants to be an independent economic power; I think that what [the Chinese] are touching on is the dominance of the United States over so many aspects of the world economy," he said.
For its part, Washington needs access to the vast and fast-growing Chinese market for its goods and services. U.S. Trade Representative Susan Schwab said on December 10 that the potential benefits for Americans are enormous, in terms of jobs, exports and in keeping America competitive.
But how would neighbor countries be affected by closer trade relations between the world's biggest economy, and the world's fastest-growing economy?
Neill suggests that an even stronger China closer to the United States might squeeze the Central Asian states out of the Chinese market.
Neighborhood Effect?
"Central Asia might find it harder to have buying power, buying into Chinese markets for example," he said. "But having said that, given that they are neighbors, rather than the Central Asian economies basing themselves on a dollar economy, they may be looking far more at [yuan-based] or pegged economies, particularly in view of China's massive drive for business across the world."
As a sweetener to the Beijing talks, just in advance of the arrival of the U.S. delegation, China announced that it was fulfilling a commitment given to the World Trade Organization to allow foreign banks to conduct retail business in the yuan.
Although this marks the full on-shore arrival of foreign banks, the move is not considered likely to have an immediate impact on the investment scene in China.
That's because the established Chinese banks, although often lacking in customer service, have strong retail banking networks across the huge country that won't be easy for foreign banks to match anytime soon.
China In Central Asia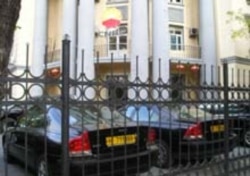 The Almaty,Kazakhstan, office of China's National Petroleum Corporation (RFE/RL)
BEIJING ON THE RISE:
The September 11, 2001, terrorist attacks against the United States prompted Washington to topple the Taliban regime in Afghanistan. At the time, many predicted the United States would gain a new foothold in Central Asia: new U.S. military bases appeared in Kyrgyzstan and Uzbekistan, U.S. foreign aid increased, and much U.S. attention was lavished on the region. Russia and China looked on warily. But the pendulum may be swinging back in Moscow's and Beijing's favor. China, especially, has expended great effort at winning friends in Central Asia and is becoming a force to be reckoned with
....(more)
RELATED ARTICLES
Turkmenistan-China Pipeline Project Has Far-Reaching Implications
Central Asia Looks To Fuel Asia's Economic Boom
The Geopolitical Game In Central Asia
ARCHIVE
To view an archive of RFE/RL's coverage of China, click here.

SUBSCRIBE
For weekly news and analysis on all five Central Asian countries by e-mail, subscribe to "RFE/RL Central Asia Report."