Uranium From German Reactor Airlifted To Russia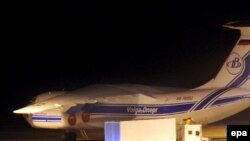 The Russian transport plane in Dresden this morning (epa) December 18, 2006 -- Some 300 kilograms of uranium from a long-closed reactor in the former East Germany are being airlifted to Russia today for reprocessing.
Under heavy security, a truck brought the 18 containers of uranium from the former Rossendorf nuclear-research center to Dresden airport.
Police spokesman Thomas Herbst said the containers were loaded aboard a Russian transport plane, which took off early today.
The uranium is headed for a processing center at Podolsk, outside Moscow.
(AP)