Iran Confirms Rafsanjani's Election Victory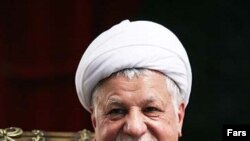 Ayatolah Ali-Akbar Hashemi-Rafsanjani (file photo) (Fars) December 18, 2006 -- Iran's Interior Ministry has released the final results of the December 15 elections for the Assembly of Experts that oversees the work of Supreme Leader Ayatollah Ali Khamenei.
Former President Ali Akbar Hashemi Rafsanjani, a moderate conservative, garnered more than 1.5 million votes, which is the most of any candidate.
Rafsanjani is a fierce opponent of hard-line President Mahmud Ahmadinejad, and his victory is regarded by observers as a setback for the president.
Ahmadinejad's spiritual mentor, Mohammad Taghi Mesbah Yazdi, is in sixth place with close to 900,000 votes. However he has enough votes to retain a seat in the 86-member clerical body.
(IRNA, dpa)