The resolution was adopted on December 19 by a vote of 72-50, with 55 abstentions, in the 192-country assembly.
Before the vote, Iranian diplomats unsuccessfully tried to block the resolution.
The resolution faults Iranian authorities for "harassment, intimidation, and persecution" of human rights advocates, political opponents, religious dissenters, journalists, parliamentarians, students, academics, Internet bloggers, and labor union members.
It criticizes Iran's justice system, which it says has "persistently failed" to meet international standards, and expresses concern over the use of torture and cruel or degrading punishment such as flogging and amputations.
It also decries violence and discrimination against women and girls in Iran, and discrimination and human rights violations against ethnic and religious minorities.
(Reuters, AFP)
Women In Iran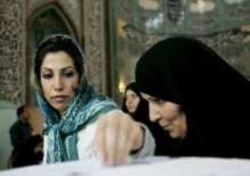 Women in Tehran (epa file photo)

CALLING FOR MORE RIGHTS: Although women played key roles in Iran's 1979 Islamic Revolution, the place of women in post-revolutionary society has been a vexing question. Iranian women have struggled to bring attention to their calls for greater rights in their country's rigid theocratic system, calls that have often clashed with the values proclaimed by conservatives in society. (more)
RELATED ARTICLES
Tehran Police Renew Campaign To Combat 'Un-Islamic' Dress
Iranian Peace Prize Laureate Shirin Ebadi On Women's Rights
Activists Concerned About Self-Immolation Of Iranian-Kurdish Women
The Younger Generation's 'Tehran Blues'
ARCHIVE
RFE/RL's coverage of Iran. RFE/RL's coverage of issues concerning women throughout our broadcast area.

SUBSCRIBE
For a regular review of civil-society developments throughout RFE/RL's broadcast region, subscribe to "RFE/RL (Un)Civil Societies."