Ukrainian President Orders Investigation Into Journalist's Death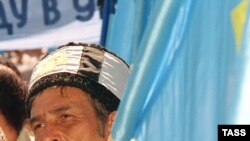 A Crimean Tatar at a rally in May to mark the anniversary of their deportation to Central Asia by Stalin (ITAR-TASS) SIMFEROPOL, Ukraine; December 21, 2006 (RFE/RL) -- Ukrainian President Viktor Yushchenko has ordered an investigation into the killing of a Crimean Tatar political activist and journalist, Norik Shirin.
The Interfax news agency reported that Yushchenko's spokeswoman, Iryna Vannykov, said today that "the president is shocked at the outrageous killing."
Shirin was found stabbed to death in his garage in Simferopol on December 20.
The head of the Crimean regional police press office, Oleksandr Dombrovsky, told RFE/RL's Ukrainian Service that "a stranger would not have been able to commit a crime in that area. [A stranger] would have been noticed immediately, as it is a compact [ethnic] community, and also, any unknown car would have been spotted right away because everybody knows each other."
Shirin, whose real name was Nuri Osmanov, was the leader of the Crimean Tatar "Unity" youth movement as well as the editor of the weekly "Youth Voices."
An RFE/RL correspondent in Simferopol said that Shirin, who was attending a local university, was well known among Tatar young people and had recently returned from Kyiv with plans to start an FM radio station.
Estimates vary, but ethnic Tatars make up around 12 percent of Crimea's population.


2006 IN REVIEW: A photo gallery of key news events of 2006 from across RFE/RL's broadcast region. ...more