In the resolution, the 15-member council directs all states to prevent the supply or sale to Iran of any materials that could assist its nuclear or ballistic-missile programs. It also imposes an asset freeze on key companies and individuals named by the UN as contributors to Iran's nuclear and missile programs.
Iran swiftly rejected the resolution calling it an "invalid" and "extralegal act" outside the bounds of the UN's charter.
The International Atomic Energy Agency must now determine within 60 days on whether Iran has complied with the resolution and suspended its nuclear activities.
After the vote, Britain's UN ambassador, Emyr Jones-Parry, said that the resolution is not the goal in itself, but a means to bring Iran back to the negotiating table.
"This resolution underlines the seriousness of the situation, including the international community's lack of confidence about the direction of Iran's policies," he said. "Importantly, the door is not closed for Iran. We remain committed to seeking a diplomatic, negotiated solution with Iran based on cooperation."
The End Of A Long Process
The resolution was adopted after lengthy diplomatic negotiations between the Security Council permanent members, with Russia and China on one side and the United Kingdom and United States on the other. France, another permanent council member, supported the U.K. and U.S. position with some reservations.
Russia and China, for whom Iran is an important trading partner, rejected imposing severe trade and travel sanctions on Tehran, as the United States initially insisted.
Immediately after the resolution was adopted, Tehran denounced it as an "illegal act" that will not deter Iran from continuing its "peaceful nuclear plans."
Iran's UN ambassador, Javad Zarif, called the resolution an attempt to intimidate Iran.
"Bringing Iran's peaceful nuclear program to the council by a few of its permanent members, particularly the United States, is not aimed at, nor will it help [to find] a solution or encourage negotiations," Zarif said. "Their stated objective has always been to use the council as an instrument of pressure and intimidation to compel Iran to abandon its rights."
Vitaly Churkin, Russia's UN representative, was instrumental in bringing the final text into existence. Moscow strongly objected the imposition of more severe sanctions that were initially sought by Washington, but were eventually deleted to win the council's unanimous approval.
Churkin said Russia regrets the necessity for imposing even these, toned-down sanctions on Iran but expressed hope that it will push Tehran to eventually come back to the negotiating table and to find opportunities for a "very broad cooperation with the international community."
No Use Of Force
"Unfortunately that has not happened [Iran's compliance with IAEA] and that logically led to the adoption of today's resolution which again, is oriented toward resumption of negotiations and toward resolving all those matters and problems associated with the Iranian nuclear program peacefully," Churkin said. "And that is, of course, one of the major requirements which the Russian Federation was posing for this resolution."
Russia and China agreed to support the resolution on the condition that there was no mention in its text of the possible use of force if Iran fails to comply. No Security Council member -- including the United States -- is advocating that option.
Russia also insisted, and succeeded in removing from the initial draft, any reference to Bushehr -- a nuclear plant in Iran that is being built with Russian nuclear technology and reactors.
Wang Guangya, China's UN representative, also expressed Beijing hope that the issue will be resolved through diplomatic means.
"I do hope that this resolution, though China voted in favor, should not be mainly focused on sanctions, but rather to invigorate diplomatic, efforts, we hope," Wang said. "We hope that the people will resume the negotiations."
The International Atomic Energy Agency (IAEA), the UN's nuclear watchdog, must now determine and report to the Security Council within 60 days on whether Iran has complied with the resolution and suspended its nuclear activities. If the IAEA determines it has not, then the council may consider further punitive measures.

What Would Sanctions Mean?
What Would Sanctions Mean?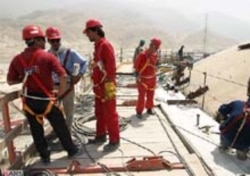 Economic sanctions could further undermine Iran's already shaky economy (Fars)


MOVING TOWARD SANCTIONS: If the United Nations Security Council imposes sanctions on Iran, domestic support for Iranian President Mahmud Ahmadinejad will wane, according to ALEX VATANKA, Eurasia editor for Jane's Information Group.
Vatanka told a February 24 RFE/RL briefing that "economic sanctions will hurt the average Iranian" and, consequently, many "will blame the ruling clerics" for making life difficult and "impairing the country's long term development."
Vatanka said sanctions would be a serious challenge to the Iranian government. If harsh economic sanctions were imposed, Iran's poorest population will be hurt the hardest -- and might react "as they did in the 1970s and protest in the streets." Sanctions on travel, Vatanka said, would hurt a many Iranians because "Iran is a nation of small traders" who depend on the ability to travel to earn an income. According to Vatanka, unemployment in Iran is estimated at 30 percent, "so small trading is essential to survival." Although current U.S. sanctions "haven't worked," he said, "Iranians fear an oil embargo." He stressed that "oil revenues are a major part of the economy, so it is critical to look at this sector."
Should negotiations with the European Union and the UN fail, Vatanka believes that Iran would follow a "North Korea model," since Ahmadinejad's base of support among the "Islamist militias" has been "urging withdrawal from the NPT [Nuclear Non-Proliferation Treaty]." The Iranian government's "tactic" so far, Vatanka said, is governed by the belief that "by shouting the loudest, you'll get concessions [from the West]."
LISTEN
Listen to the complete panel discussion (about 60 minutes):

Real Audio
Windows Media

THE COMPLETE STORY: RFE/RL's coverage of the controversy surrounding Iran's nuclear program.
CHRONOLOGY
An annotated timeline of Iran's nuclear program.