At Least 11 Police Killed In Iraq Violence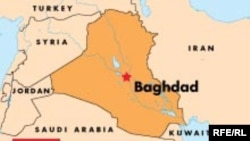 (RFE/RL) December 24, 2006 -- A suicide bomber wearing an explosive vest today killed seven Iraqi police officers and wounded some 30 others in an attack on a police station.
The attack occurred in Al-Muqdadiyah, some 100 kilometers northeast of Baghdad.
Iraq's security forces are subject to daily attack from insurgent groups.
In the northeast town of Khanaqin, near the Iranian border, police say 18 civilians were wounded in at least one explosion.
In the southern city of Samawah, fighting between security forces and alleged Shi'ite militiamen has killed at least four police officers. A curfew was in place in the city today.
(Reuters, AP, AFP)