British, Iraqi Troops Raid Al-Basrah Police Station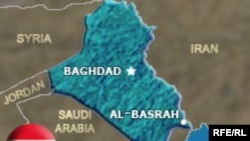 (RFE/RL) December 25, 2006 -- British and Iraqi forces today raided one of the main police stations in the southern city of Al-Basrah, killing at least seven armed men.
British Major Charlie Burbridge said the aim of the raid was to disband the Serious Crimes Unit at the police station, which was helping death squads and carrying out killings.
Burbridge said the unit's members were planning to kill some of the 178 prisoners held there.
Iraqi officials said the unit had become a "criminal enterprise."
British forces backed by tanks surrounded the station in the early hours of the morning, and then, joined by Iraqi troops, the combined force took control of the police station and detained an unspecified number of policemen inside.
British troops have already transferred some of the prisoners to other holding facilities.
Parts of the police station were demolished, British forces said, so it could not again be used by criminal elements.
(Reuters, AFP, AP)

2006 IN REVIEW: A photo gallery of key news events of 2006 from across RFE/RL's broadcast region. ...more