Hajj Pilgrims Participating In Stoning Ritual For Third Day
(epa) January 1, 2007 -- Devout Muslims participating in the hajj stoned pillars representing Satan for a third day today in Saudi Arabia.
The stoning takes place in Mina, where Islam says Satan tempted the biblical patriarch Abraham.
The stoning of the pillars is among the most followed, and most dangerous, elements of the annual pilgrimage.
This year's stoning ritual tests new safety measures in place to avoid a tragedy similar to the scene in the last hajj, when 362 pilgrims were crushed to death.
Official figures suggest that nearly 2.5 million Muslims from 187 countries are participating in Islam's annual pilgrimage, more than 40 percent of them women.
(AFP)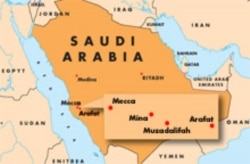 Click on the map for an enlarged image.

THE HAJJ: Every year, Islamic pilgrims converge on the Saudi holy city of Mecca for what is considered to be the world's largest single gathering of human beings -- the annual hajj pilgrimage, the fifth and final pillar of Islam. Hajj literally means "to set out for a place," and every able-bodied Muslim with the means to do so is expected to make the pilgrimage at least once in their lifetime, traditionally after first settling all their wordly affairs...(more)