Muslims from all over the world are in Saudi Arabia to take part in the hajj, which is one of the five pillars of Islam. Every Muslim that is physically and financially able is supposed to undertake the hajj at least once in a lifetime.
Saudi officials have said that over 1.5 million Muslims have arrived in the kingdom for this year's hajj. In addition to the pilgrims from abroad, it is expected that more than 600,000 Saudis and other Muslims living in the kingdom will perform the hajj.
It is believed that if the hajj is performed properly, all previous sins in one's life will be forgiven.
Emphasizing Equality
The pilgrims are dressed in simple white sheets called "ihram," which symbolizes purity and equality of mankind and erases all signs of class and culture.
Among the pilgrims is this Afghan man, who spoke to RFE/RL's Radio Free Afghanistan. "I have departed from the holy Mecca and I am on my way to the holy Mina, all the [pilgrims] gather in Mina," he said. "I will perform the five prayers in the holy Mina and then I will move toward [Mount] Arafat."
From Islam's holiest city, Mecca, the huge mass of Muslims make their way about 10 kilometers to the Valley of Mina, which has been turned into a giant tent city and where pilgrims will be accommodated for the duration of the hajj.
Tatarstan's deputy mufti, Weliulla Yakup, spoke today to RFE/RL's Tatar-Bashkir Service from Mina Valley and described the accommodations.
"The tents are all around the valley -- there can be 10, 20, or 30 hajjis (pilgrims) in one tent," he said. "There are streets here, on each street there are kiosks with local food, everybody can buy some. There is electricity in the tents. People make tea, there are electric teapots in the tents. There is free delivery of water."
A Formidable Journey
Muslims spend the night in Mina and at dawn on December 29 they ascend Mount Arafat, where Prophet Muhammad delivered his last sermon in the year 632. This is considered the most important stage of the hajj and Muslims will spend the day in Mount Arafat praying and asking God for forgiveness.
Pilgrims then return to Mina to mark the Eid al-Adha -- or the Feast of the Sacrifice -- when they slaughter an animal, most often a sheep.
Pilgrims will also take part in the stoning ritual where they throw small stones or pebbles at three pillars representing the devil. The ceremony symbolizes the willingness to ward off temptation.
At the stoning ceremony last year at the foot of the bridge of Jamarat -- in the Mina Valley -- at least 345 pilgrims were crushed to death.
In order to avert a similar tragedy, there has been reconstruction of the area and more than 30,000 security officers have been mobilized to prevent a stampede or any other dangerous incidents.
Sectarian Violence Worries
This year's hajj comes amid deadly sectarian violence between Shi'ite and Sunnis in Iraq and violence in the Palestinian territories between different Palestinian factions.
Earlier this week, Saudi Interior Minister Prince Nayif bin Abd al-Aziz, who heads the country's Hajj Supreme Committee, said Saudi Security forces will crack down on any attempt to undermine the hajj. Al-Aziz -- commenting on the risks of sectarian violence -- said any activity other then hajj rituals will not be tolerated.
During the past 17 years there have been several deadly incidents during the hajj, including a stampede in 1990 that killed nearly 1,500 people and a fire in a tent in Mina that left 340 dead.
Many have also lost their lives due to natural causes during the pilgrimage, often because of the extreme heat. On December 27, the Hajj Supreme Committee said more than 200 pilgrims, mainly older people, have died on the hajj this year, mostly from heart-related problems.
Saudi health officials say that 21 field hospitals have been set up in Mecca and Medina and some 9,500 doctors and other medical staff have been mobilized to provide health care to pilgrims.
Health Concerns
Tatarstan's Deputy Mufti Yakup says pilgrims perform the religious rituals in extreme temperatures.
"For us, it is summer here, 25-28 degrees Celsius, although it is rather cool at night," he said. "But we all have got sleeping bags and blankets in Mecca. There are some difficulties, of course, but we're putting up with them."
For many Muslims the hajj is considered the main and most important journey of their life and they save their money all their lives in order to be able to make it. It is believed that if the hajj is performed properly, all previous sins in one's life will be forgiven.
To complete the hajj everyone must circle seven times around (known as the tawaf) the Kaaba -- or the large cube-like structure in Mecca that houses the black stone, the focal point of Muslim prayers -- one last time on the fifth day.
This year's hajj will end on December 31. Before returning home, many pilgrims visit the Prophet Muhammad's tomb in Medina.
(RFE/RL's Tatar-Bashkir Service's Alsu Kurmasheva and Radio Free Afghanistan's Sultan Sarwar both contributed to this report.)
The Hajj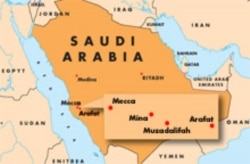 Click on the map for an enlarged image.

THE HAJJ: Every year, Islamic pilgrims converge on the Saudi holy city of Mecca for what is considered to be the world's largest single gathering of human beings -- the annual hajj pilgrimage, the fifth and final pillar of Islam. Hajj literally means "to set out for a place," and every able-bodied Muslim with the means to do so is expected to make the pilgrimage at least once in their lifetime, traditionally after first settling all their wordly affairs...(more)