Reports say many of the bodies bear signs suggesting the killings were carried out by sectarian death squads.
The deaths were reported amid continuing high tensions between Iraqi Sunni Arabs and Shi'a since the execution by hanging of former dictator Saddam Hussein, a Sunni.
The Iraqi government has pledged an investigation into the December 30 execution to determine who unofficially filmed the event on a mobile-phone camera, and to determine who is heard on the recording taunting Hussein before his death.
The circumstances of Hussein's execution, as seen on the video, have been blamed for stoking the anger of some members of the Sunni minority.
The Iraqi government has not said what, if any, punishment would be faced by guards or witnesses who may be implicated in the probe.
(AP, Reuters)
Sectarian Iraq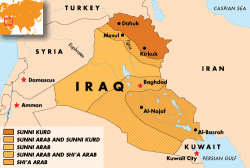 Click to enlarge the image.
SUNNI, SHI'A: Iraq is riven along sectarian lines, faults that frequently produce violent clashes and are a constant source of tension. Sectarian concerns drive much of Iraqi politics and are the main threat to the country's fragile security environment.


THE COMPLETE PICTURE: Click on the image to view RFE/RL's complete coverage of events in Iraq and that country's ongoing transition.