Iranian Oil Minister Kazem Vaziri Hamaneh said he had apologized to Turkey's energy minister but added that he hoped the opening of a major gas refinery in Iran's southern Fars Province by the end of this week would help solve the problem.
Eleven of Iran's provinces are currently facing gas shortages, including some of the coldest areas like Kurdistan, Zanjan, and East and West Azerbaijan, according to Radio Farda.
The state-run gas company, National Iranian Gas Company, warned of the shortages there, and added that a "nationwide" cut in supplies could follow.
The company urged consumers to conserve fuel.
Deputy Oil Minister Hasan Kasai told ILNA on January 1 that gas consumption has risen by 45 percent year-on-year.
How Much Do The Neighbors Pay?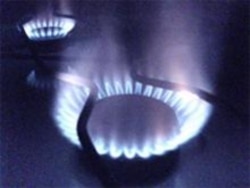 SETTING THE RATES: With Gazprom negotiating new contracts, many states will be paying more for Russian natural gas in 2007.
Belarus, following tense negotiations with Gazprom, will pay $100 per 1,000 cubic meters in -- up from $47 in 2006. Ukraine, which depends on Russia to supply it with about 77 percent of its gas, will pay $130 per 1,000 cubic meters of a Turkmen-Russian gas mix. Moldova, which depends on Russia for 100 percent of its gas, will pay $170 per 1,000 cubic meters, with the price rising to European-level market price by 2011. Georgia has agreed to pay Gazprom $235 per 1,000 cubic meters of gas.
ARCHIVE
A
complete archive
of RFE/RL's coverage of energy issues in the Caspian Sea region and Russia.