New Bosnian Premier-Designate Says Top Priority Is Unity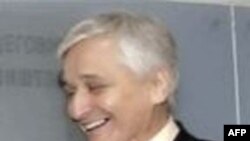 Nikola Spiric (file photo) (AFP) January 5, 2007 -- Bosnia's newly named prime minister-designate says one of his top priorities is overcoming enduring "antagonism" between the country's two entities, the Republika Srpska and the Muslim-Croat Federation.
Nikola Spiric made the statement to the "Dnevni Avaz" daily after being appointed prime minister on January 4 by Bosnia's tripartite Presidency.
Bosnia's two entities are united by weak central institutions, and strengthening the central government is key to the country's bids for EU and NATO membership.
(AFP)