Georgian media reports said a group of men armed with automatic weapons and grenades attacked a police station along the Inguri River between the western Georgian town of Zugdidi and the town of Gali in Abkhazia.
Georgian authorities said the attack was carried out by Abkhaz special forces. Abkhaz separatist authorities denied this, saying the police officer was killed in a clash with a Georgian criminal gang.
This is the latest in a series of recent incidents along the border with Abkhazia, which de facto split from Georgia in the early 1990s but has not been recognized internationally.
(Rustavi 2, dpa, AFP)
RFE/RL Briefings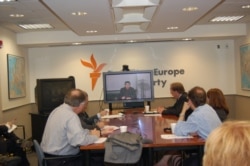 BEYOND THE HEADLINES. RFE/RL regularly hosts briefings and discussions with leading experts on our broadcast region. In 2006, some of the crucials topics were gas wars, elections in Belarus and Ukraine, Iran's nuclear program, and unrest in Central Asia....(more)
SUBSCRIBE
To receive RFE/RL briefing invitations and reports by electronic mail, send a message to
dc-response@rferl.org
with "Subscribe" in the subject line.