Alyaksandr Barouski, the chief engineer at Homel Transneft Druzhba, told RFE/RL that his firm has made "reductions" in oil supplies to these countries.
The Druzhba pipeline pumps Russian oil to Poland and Western Europe via Belarus.
Energy Dispute
Barouski said the order to reduce supplies came from Belarus's state oil firm, Belneftekhim. He said the decision was likely related to the current energy price row between Russia and Belarus.
The Polish Economy Ministry confirmed today that Poland is experiencing disruptions in oil deliveries from the Druzhba pipeline.
The Polish pipeline company PERN said deliveries of Russian crude oil to Poland and Germany have been cut off at Poland's eastern border with Belarus.
EU Reaction
EU Energy Commissioner Andris Piebalgs says the cuts pose "no immediate risk" to energy supplies in the EU.
He also says he is seeking an "urgent and detailed explanation" of the cuts from authorities in Belarus and Russia.
The disruption comes as the dispute between Russia and Belarus over energy prices and transit fees continues to mount.
In an 11th-hour decision on December 31, Minsk accepted a price hike that will more than double the amount it pays for Russian natural gas. Belarus will also sell a 50 percent stake of its domestic gas-transit network, Beltranshaz, to Russia's Gazprom network over the next four years.
Export Control
Gazprom has long sought a stake in Beltranshaz as part of its strategy to secure control over its export routes.
Minsk and Moscow have also struggled over duties and transit fees related to the export of Russian oil to Western Europe via Belarus.
Belarusian President Alyaksandr Lukashenka on January 6 said the Belarusian government was taking Russia's Transneft pipeline monopoly to court for failing to pay new transit fees.
Those fees were imposed by Minsk in response to a Russian decision to levy taxes against Belarus for the import of Russian crude oil.
(with agency reports)

Prague Energy Forum, October 23-24
Prague Energy Forum, October 23-24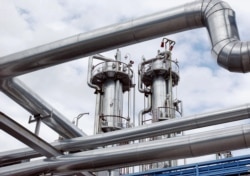 An oil refinery in Western Siberia (TASS)

STABILITY AND SECURITY: On October 23-24, RFE/RL and the Warsaw-based Economic forum cosponsored the Prague Energy Forum at RFE/RL's Prague broadcasting center. The Energy Forum brought together nearly 100 experts and policymakers from Europe, Central Asia, and the Middle East to discuss key issues of energy supply and security in the years to come.
HIGHLIGHTS: RFE/RL presents some of the key presentations from the Energy Forum and interviews with some participants:
Czech Premier Urges Reduced Energy Dependence On Russia
Interview: Nature A Bigger Threat To Security Than Terrorism
Russia Can Boost Security Through Transparency
Interview: Russian Expert Addresses Europe's Security Concerns
U.S. Official Outlines Concerns About Iran's Nuclear Program
Iranian, Western Experts Spar Over Tehran's Nuclear Ambitions
Experts Ponder Future 'Gas Wars'
Former U.S. Ambassador Says Kyiv Can Cope With Gas Price Rise
Interview: Tbilisi Bent On Energy Independence


MORE: Click on the image to see the conference program, participant list, and other materials.