The White House today also said Bush will also nominate the current U.S. ambassador to Pakistan, Ryan Crocker, to fill the Baghdad post.
Khalilzad, if confirmed by the U.S. Senate, will replace John Bolton, whose temporary appointment expired earlier this month.
The White House also said Bush will address the nation at 9 p.m. on January 11 to outline his new plan for stabilizing Iraq.
Bush is expected to announce an increase of up to 20,000 additional U.S. troops in an effort to curb sectarian violence.
(Reuters, AFP)
RFE/RL Briefings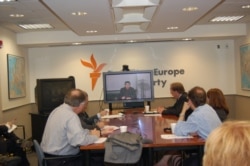 BEYOND THE HEADLINES. RFE/RL regularly hosts briefings and discussions with leading experts on our broadcast region. In 2006, some of the crucials topics were gas wars, elections in Belarus and Ukraine, Iran's nuclear program, and unrest in Central Asia....(more)
SUBSCRIBE
To receive RFE/RL briefing invitations and reports by electronic mail, send a message to
dc-response@rferl.org
with "Subscribe" in the subject line.