UN Seeking Emergency Funds To Help Displaced Iraqis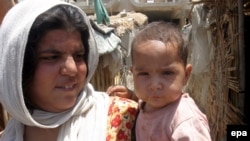 Displaced Iraqis at a camp in Baghdad in June (epa) January 8, 2007 -- The UN's refugee agency, the UNHCR, has made an emergency appeal for $60 million to help the hundreds of thousands of Iraqis forced to flee their homes because of violence.
The agency says it expects the number of internally displaced Iraqis to rise to 2.3 million in 2007. That's up from 1.7 million at the end of 2006.
The UNHCR says another 2 million have fled abroad, mainly to Syria, Jordan, Lebanon, Egypt, and Turkey.
(Reuters, AP, AFP)

2006 IN REVIEW: A photo gallery of key news events of 2006 from across RFE/RL's broadcast region. ...more