Pollution Said To Kill 3,600 A Month In Tehran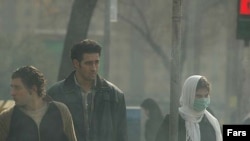 Smog shrouds the streets of Tehran in December (Fars) January 9, 2007 -- An Iranian official has said that air pollution has directly or indirectly killed 3,600 people in just a month in the Iranian capital, Tehran.
Mohammad Hadi Heydarzadeh, director of Tehran's clean-air committee, said the deaths in the Iranian month of Aban (October 23 to November 21) were caused by heart attacks caused by smog-related health problems.
Tehran is one of the world's most polluted cities, with cars cited as the biggest source of pollution.
(Radio Farda, AFP)

FOCUS ON YOUTH: Kaveh Basmenji is the head of RFE/RL's Persian-language Radio Farda. He was born in Tehran in 1961 and began working as a journalist at the age of 16. He recently spoke with RFE/RL correspondent Golnaz Esfandiari about his book "Tehran Blues" (Read an excerpt from the book.) and the role of youth in Iranian society today... (more).
See also:
Interview: The Voice Of Iran's Youth
Iranian Youth Movement Has Untapped Potential
Prize-Winning Documentary Exposes Hidden Side Of Iranian Society
PEN Launches Campaign In Support Of Women 'Cyber-Dissidents'