Spanish Foreign Minister Miguel Angel Moratinos, who succeeds his Belgian counterpart Karel De Gucht as OSCE chairman in office, said any approach to a resolution should be cautious and realistic.
He said there is no "magic wand" to solve the frozen conflicts in Moldova's breakaway region of Transdniester and Georgia's Abkhazia and South Ossetia.
Moratinos credited the OSCE's Minsk Group with recent "positive developments" in talks on the ethnic-Armenian enclave of Nagorno-Karabakh in Azerbaijan.
He said, however, it would be wrong to expect "short-term miracles" in resolving the dispute.
Moratinos made his comments in Vienna, where he was outlining the OSCE's targets for 2007.
Kazakhstan And The OSCE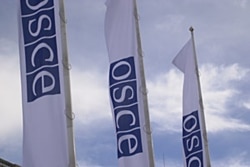 READY TO LEAD THE OSCE? Kazakhstan has been lobbying to be granted the rotating chair of the Organization for Security and Cooperation in Europe (OSCE) in 2009. In March, current OSCE head Karel De Gucht visited the country and said Kazakhstan is better prepared to head the OSCE than any other Central Asian country. But concerns about the state of democracy, the media, and ethnic relations make Kazakhstan's bid extremely controversial....(more)
RELATED ARTICLES
OSCE Says Kazakh Presidential Vote Flawed
OSCE Says Kazakh Obligations Not Met Ahead Of Vote
OSCE Offers Amendments To Kazakhstan's Draft Media Law
ARCHIVE
RFE/RL's
coverage of Kazakhstan
. The website of
RFE/RL's Kazakh Service
.